Introduction
This section provides useful information on selected topics including Nanking Massacre, Military Sexual Slavery, Biological & Chemical Warfare, POWs & Forced Labour, Canadian Hong Kong Veterans, and other atrocities.  Selected testimonies,  historical photos, primary and secondary documentations, and sample teaching points are also included for each topic.
"If world peace ever happens, it will be built on knowledge."
- June Callwood
XIA Shu-Qin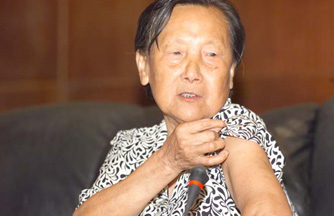 Madam Xia Shu Qin showing the scars of her 3 stabbed wounds. Seven of her 9 family members were slaughtered including her mother  and 2 elder sisters who were gang raped during the Nanjing Massacre.  Madam Xia was then 8 years old.
WAN Ai-Hua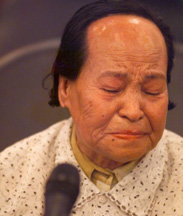 Madam Wan Ai Hua bears witness to the sexual slavery system of the Japanese military to Canadian educators in 2004. She was the first Chinese "comfort woman" who came forward to bear witness in public.