Information Package
China (Shanghai, Nanjing and Harbin) and Korea (Seoul) July 12 - 24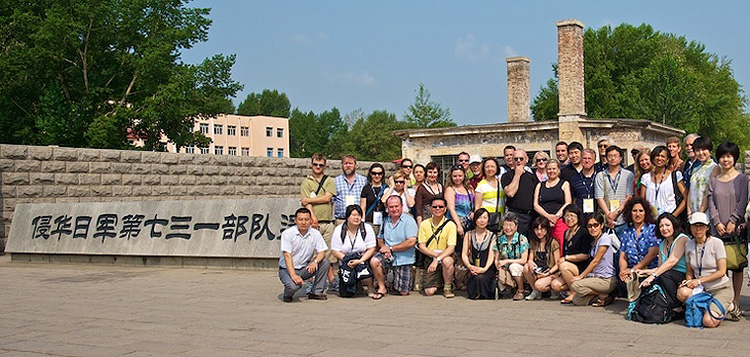 This is the ninth Peace and Reconciliation Study Tour to Asia since 2004. The 13 day Study Tour includes 3 cities in China (Shanghai, Nanjing and Harbin), and Seoul in Korea. Topics of study will include: historical facts about the atrocities during the war, biological and chemical weapons, military sexual slavery, forced labour, the Nanking massacre, geopolitics and post-war activist movements.
We are offering an optional day tour to DMZ/JSA (Panmunjeom) in Korea on 24th.
Educators from across North America have joined this journey of discovery that touches their heart and will inspire them to change this world through their work with students in the classroom.
Background of the Peace & Reconciliation Study Tour
To support the Social Studies Curriculum, the BC Ministry of Education published the Social Studies teachers' guide Human Rights in the Asia Pacific 1931-1945: Social Responsibility and Global Citizenship in 2001. A French version of the resource is also available for French Immersion schools. The purpose of the guide is to support the prescribed learning outcomes for Social Studies Grade 11, History 12, Law 12 and Social Justice 12, as well as to develop Canadian students' sense of global fraternity and responsibility. This is an excellent classroom tool for peace, justice and anti-racism education. It is the world's first teacher's guide that focuses on humanity issues from the Asia-Pacific War to teach human rights and global citizenship.
As a partner in the development of the B.C. learning resource, ALPHA has taken initiative to offer continual support to teachers in the effective and creative use of this educational tool. We can help arrange speakers, survivors, and eyewitnesses, and make reference, video materials, and traveling exhibits available on loan to teachers. In line with this spirit, ALPHA has conducted the annual Peace & Reconciliation Study Tour since 2004. For highlights and albums of the past Study Tours, please go to our Gallery and Media Report pages. For video reports, please go to:
2011 Video (15:30 min) | 2009 Video (7:00 min) | 2008 Video (13:58 min) | 2007 Video (15:09 min) | 2006 Video (13:52 min)
Objectives of the Study Tour
To enhance educators' knowledge and understanding of the history of WWII in Asia, from the perspectives of historical facts, education about humanity and social justice, through visits to museums, historical sites, meetings with survivors, and dialogues with local historians, scholars, teachers and peace activists in China, Korea and Japan.
To equip participants with the knowledge and tools required to share and teach study tour observations and experiences to students, colleagues and communities in the context of WWII atrocities in Asia.
To provide a valuable opportunity for participants to immerse in the history and cultures of East Asia through sight-seeing, attending cultural shows and programs in China, Korea and Japan.
Details of the Study Tour
Participants
Educators sponsored by Toronto, BC, Edmonton, and New Jersey ALPHAs
Key cities to be visited
Shanghai, China (arrival city)
Nanjing, China
Harbin, China
Seoul, Korea
For a detailed itinerary, please click here.
Tour period
July 11 (Friday) - July 24 (Thursday), 2014 inclusive of departure and return dates
Mandatory sessions start on evening of July 12 (Saturday): All participants are required to check in at the arranged hotel in Shanghai and assemble for orientation by 7:00 pm on July 12.
Last day of tour (July 24, Monday): Those who return to Canada immediately will depart from Seoul.
The beginning and end dates of the Tour must be strictly observed. Participants who wish to arrange additional travel before and/or after the Study Tour must work around these dates.
Please note that attendance to all sessions from July 12 - 24 is mandatory unless otherwise specified.
Outline of activities of the study tour
Meeting survivors of military sexual slavery (the so-called "Comfort Women"), forced labour, chemical & biological warfare, and the Nanking Massacre
Meeting historians and researchers on humanity issues during the Asia-Pacific War
Sharing with fellow educators about how to teach this chapter of history
Meeting lawyers and scholars who support the redress of victims
Visiting museums and historical sites related to humanity issues during the Asia-Pacific War
Reflection and sharing sessions
Sightseeing and exploring the cultures of China, Korea and Japan
Estimated costs
Below are the estimated costs for the 2014 Peace and Reconciliation Study Tour. Please note that the actual cost may vary and applicants are advised to refer to the table as a guide for financial planning only. Participants are also responsible for their personal expenses and any extended stay costs beyond the last day of the tour. All participants must provide proof of medical and accident insurance to ALPHA prior to the trip.
Tour Fee (accommodations, meals, scheduled site visits, program fees, ground transportation, regional flights within Asia)
$2,800
Participants will also be responsible for the following fees & arrangements
International return flight to Asia - will vary depending on the city of departure
$1,200 -1,800
Optional DMZ Tour (tour of DMZ/JSA, lunch, one night accommodation (24th )
$150 (double occupancy) or $210 (single occupancy)
Visitor visa application fee - will vary depending on the country of origin
$50
Medical and accident/cancellation insurance - depending on age and health conditions
$60 –170
Teacher Grant Application
Canada ALPHA Educational Fund offers limited grants valued at $1,500 for selected teacher applicants. A separate application is required for consideration (please see the grant application form on the Application page). BC ALPHA will also subsidize $1,000 to successful applicants to cover part of the Tour Fee.
*3-4 star hotel accommodation in Korea and China, double occupancy.
Application Details
All BC-registered teachers teaching Social Studies, History, Law, Social Justice, and other related humanities subjects in BC high schools are eligible to apply.
The application form can also be downloaded online here.
Applications should be submitted by email: office@alpha-canada.org
Applicants need to be interviewed in person, over the phone, or via internet.
Successful applicants will be notified on or before mid-April, 2014.
THE DEADLINE FOR BC APPLICATIONS IS MARCH 14, 2014
Expectations for the participants:
Participate in all 3 pre-tour scheduled meetings unless approved by the organizing committee (scheduled on May 4, June 1 and June 22) and complete all required pre-tour readings;
Participate and engage in online discussion regarding topics with other tour participants in between scheduled in-class meetings;
Attend all scheduled visits and sessions during the Study Tour; be co-operative and responsible. Applicants should ensure that they are both physically and emotionally prepared for the itinerary and group activities.
Prepare journals during the tour and share with the group;
Attend a post-tour meeting to discuss future teaching plans;
After the trip, share their experience with students/colleagues/communities through presentations in schools, associations and/or other channels;
Attend sharing sessions with other ALPHA members;
Contribute to the process of integrating these topics and materials into the school curriculum; develop new education resources pertinent to WWII history in Asia and humanity education.